No. 4014 is on the move again!
Big Boy 4018 is located in Frisco at the Museum of the American Railroad. This is a static display, it is not in running condition. The Museum is just off the Dallas North Tollway. Big Boy 4018 is 1 of 25 steam engines of this series ever built, only 8 survive today. This engine was moved to Frisco on August 26, 2013 from Fair Park in Dallas where it was on display since 1964. I personally assisted in the move from Fair Park, a 52 mile journey. Check out The Big Move videos. Some of the videos show a red pickup truck moving back and forth with a cameraman onboard, that was my truck. During the move we had difficulty getting the train out of the Fair Park area due to the train tracks did not have enough turning radius on them. I walked along the side and sprayed WD-40 on the tracks to prevent any derailments. It took 2 weekends to move the train from Fair Park to Frisco at speeds no faster than 10 MPH. During its journey it passed on the railroad tracks near DMS.
Awesome story and awesome experience. I have always loved trains and the Big Boy trains are amazing. Thanks for the story.
Yes, indeed. I visited a couple times when it was in Fair Park, and again since the move to Frisco. Even got some decent video when it was nearly home.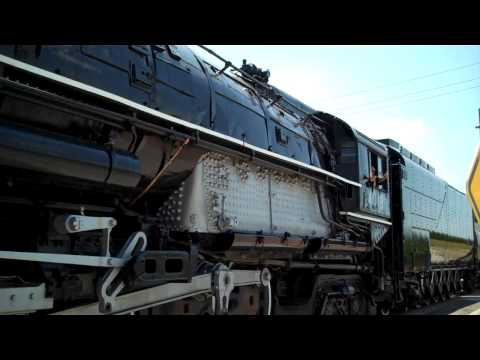 Thank you for the fun share!
Want to hitch a ride IN 4014?
Bids are up to $14,515 for an hour in the cab. Wee bit rich for my blood.
I didn't know Union hourly was THAT high!